What interests me most is neither still life nor landscape: it is the human figure. Henri Matisse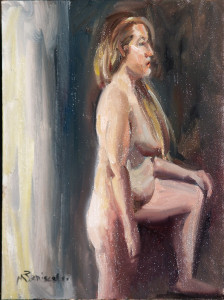 We had another figure drawing session at my studio last evening.  Lots of fun. I have logged countless hours in front of the figure and always learning.  These were two 20-55 minutes oil paintings I did towards the end.  I was trying to deal with different colored light sources in the standing figure painting to the left.  Didn't quite have enough time (20 minutes).  The portrait to the right, below, was a 55 minute effort.  The sketch at bottom was from the previous month, when the model didn't show and we drew one another.  Artists are very adaptable beings.
Figure drawing/painting is such a fantastic investment in one's creative bank account.  Just having the time limitation is such a powerful structure.  We typically start with 2-3 minute poses with longer poses at the end.  We learn by doing.  We also learn by watching other's do by osmosis.  (Just because I say "I's Moses," doesn't make me a delusional!)
I am looking to do these sessions regularly, the first Tuesday of the month.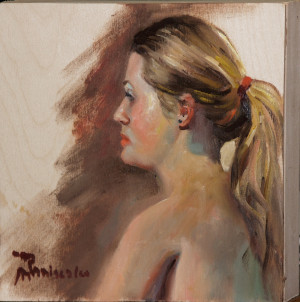 If you're interested in joining the monthly moderated (non-instructed) sessions, signup at Meetup.com "Charleston Figure Drawing"   It fills up fast.  There are numerous Meetup sessions popping up all over town.
---
I
f you like/don't like or want to add your thoughts to the conversation, I encourage you to comment.  Also, you may want to get a copy of Point of Art – Second Edition, or download it today.   I offer career coaching for those serious about a career in art. Don't forget to check out  The Portrait – a painting video  and The Power of Positive Painting, the original portrait painting video.
---
You might also like